Heavenly Harps of Hawaii offers two different styles of harp, plus the unique "glass harp" to fulfill your music needs.
Symphonic Harp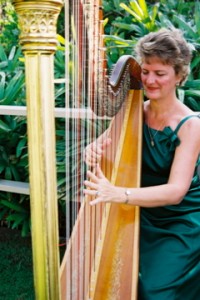 Celia plays most frequently on the gold symphonic pedal harp, as pictured on the Home Page. Not only is this instrument beautiful and graceful in appearance, but it has a full-bodied tone that is easy to hear in outdoor settings or large rooms by well over a hundred people–without amplification! The pedals allow me to play in more keys and therefore, a wider variety of repertoire is available on this harp. The pedals also allow me to play the glissando–the Heavenly sound often associated with professional harp music, as you might hear in a movie or other recorded harp music.
Listen to the glissando in the opening of this example of harp, cello, and violin:
[wpaudio: url="/audio/from_this_moment.mp3″ text="
From This Moment
, Trio by Harp, Violin, & Cello"]
Lever Harp
The standard lever harp (or Celtic harp) is a natural wood beauty. This harp is perfect when budget is a concern, the venue is remote, and most especially for hospice. This harp weighs less than the pedal harp and is thus more easily ported to secluded spots, etc. It is perfect for intimate ceremonies and events. Be aware that a lever style harp is more limited in the repertoire one can provide with integrity and it is not capable of including the glissando mentioned above, except in a few pieces.
Glass Harp
Celia offers the very rare and ethereal Glass Harp. Invented by Benjamin Franklin and named by him "Glass Armonica", this instrument was popular for about 60 years before fading into near-obscurity until quite recently. It has been said that if the Harp is the instrument of the Angels, the Glass Armonica is the voice of the Angels. The sound seems to come from everywhere and is transcendentally ethereal. The bowls from which the sound is produced are hand-blown, pure quartz crystal. Celia's instrument has 3 octaves of bowls and a range of lovely repertoire is possible on it. Since the Glass Armonica is fragile and requires electricity, it must be used in a safe place with easy access to electricity.
Listen to Voice of the Angels by Celia and experience the unique and relaxing sound of the Glass Armonica.
This selection is included on her new CD, Inner Quiet – Journey Inward
In addition…
Celia can organize a variety of vocal and instrumental ensembles. All sorts of ensembles are available here, and many players are members of the Rogue Valley Symphony. A favorite ensemble consists of harp & flute. Another wonderful combination is string quartet plus harp, making a fabulous quintet of full-bodied sound.
Please visit the Ensembles page for a more thorough discussion of what Heavenly Harps can arrange and provide for you.